W E   K N O W
      HOW TO BRING
     STONE
                 

TO ALIVE
OUR MISSION IS TO INTRODUCE AT LEAST A SMALL PART OF THE ENDLESS BEAUTY INTO EVERY INTERIOR.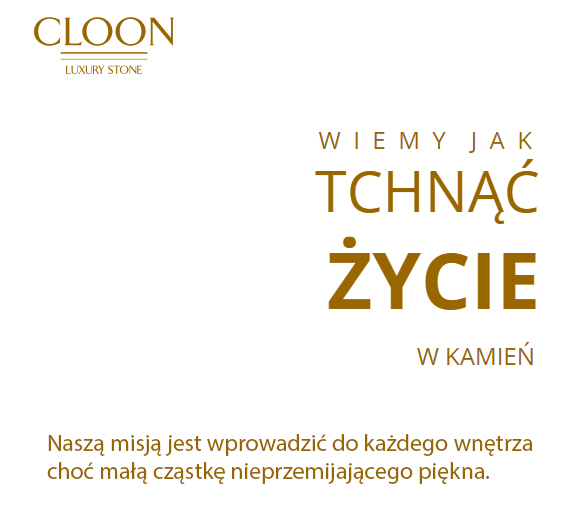 Cloon's history dates back to 1995, when the family production plant was established.  The owners' love for the natural beauty of stone gave a birth to the idea of creating interior design elements.
High quality of raw material, hard work and attention to detail were appreciated by our customers. Currently, Cloon Ltd. is a leading manufacturer of stone interior fitting, cooperating with
designers and investors in Poland and abroad. Our products are mainly addressed to the hotel industry, public buildings, where high standard, prestige and quality are in the first place.
A reliable
business partner
Contract market
We specialize in the investments servicing in hotels, restaurants and catering facilities as well as other public objects.We provide a comprehensive service: a measurement / a production / a mount / client services  We also carry out finishing works in the continuous operation establishments.
floors, facades, stairs, poles
wall facades and wall decorations
worktops, stone fronts
counters, lobbies, bars and more
The architect's idea
We are not afraid of difficult challenges or unconventional implementation, because each project enriches us with reach experience. In our salon we wait for you and your customers. We offer:
professional consulting
motivational cooperation program
a space for meetings with clients
a place of inspiration, where you can also view and select material
a tool for cooperation with clients
in the form of a mobile application with access to slabs in extended reality
Furniture
We equip hotels, restaurants, offices and other public places. Technically, these are some of the more demanding orders. The contract market inspires us to create the most modern and sublime designs and products made of natural stone, conglomerates and quartz sinters.
Our furniture is also addressed to individual customers who appreciate luxury, high quality and convenience.
Premium products,
luxury and convenience in your interior
Zone of kitchen furniture and accessories
Trust our experience. Innovative solutions and modern design are our speciality.
Zone of bathroom furniture and accessories
Create your own zone of wellness & SPA. Give yourself a little luxury.
The CHOKLE furniture collection
Uniqueness and character. The stone in many ways. Discover the premium furniture collection
Interior fittings, appliances, accessories
Express yourself, rely on the natural beauty of a stone
Contract market
We cooperate with investors and designers throughout Poland, following the latest design trends. We offer comprehensive services: measurement,  installation and client services.
Company office
Cloon Sp. z o.o.
ul. Europejska 17
62-500 Konin
POLAND
Work hours:
Mon-Fri   8:00 – 17:00
Sat            8:00 – 13:00
Renata
Individual customer consultant
Salon Cloon
 512 511 506
 biuro@cloon.pl
Darek
B2B customer consultant
Contract market
 668 859 211
 d.drzewiecki@cloon.pl
Aneta
Individual customer consultant
Marketing and sales
 883 111 044
 info@cloon.pl
Wiktoria
Chokle Forms Consultant
 733 754 000